(
part one here
)
Here are some more gems from the voluptuous Belgian comics industry, once more in no particular order.
1. Gaston
(Franquin, 1957)
When Franquin stopped working on
Spirou et Fantasio
- a comic he had inherited but not invented -
in 1968, he found himself with more time to focus on the increasingly popular
Gaston Lagaffe
, a one-page humour strip based on a character he had previously introduced in
Spirou et Fantasio
. In the years to follow, Gaston became Franquin's most famous creation.
Gaston (Dutch: Guust Flater; Norwegian: Viggo) is not the muscular he-man from
Beauty and the Beast
, but a lazy and accident-prone office junior. His only real efforts at work go into the building of strange contraptions to make his life even more comfortable, and to entertain his friends and his pets, a cat and a seagull.
Gaston's creations include: the Gaffophone, a monstrous musical instrument that makes the floor collapse at the plucking of a string; chewing gum for animals; a recipe for strawberry cod; and a suit of armour for mice.
Although only a few pages have been translated into English, the comic has been released in many countries including Spain, Portugal, Norway, Denmark, Iceland, Finland, Turkey, Germany, Sweden, and Greece.
Gaston playing his gaffophone. (Source)
2. Marsupilami (Franquin, 1952)
Franquin introduced Marsupilami in
Spirou et Fantasio
, where it acted as a pet for the lead characters. It disappeared from the series along with Franquin in 1968, but was revived in 1987 in an eponymous album series drawn by Batem (Luc Collin). Stéphane Colman has written the comic since 2006.
The
Marsupilami
comic does not feature Spirou and Fantasio's pet, but another member of the species which lives in the jungles of its native South America with its family. It has an incredibly long, strong and flexible tail which it uses in a variety of ways (perhaps most notably as a hammer for self-defence). In many of the stories, Marsupilami has to defend himself and his family against humans intruding in the jungle.
As with the Smurfs, Marsupilami's likeness can be found in all kinds of merchandise: buttons, pins, figurines, teacups, etc. (I still have a Marupilami plush toy lying around somewhere.) The comic has also spawned two animated series, one in French and one in English which was produced by Disney.
3. Blueberry
(Jean-Michel Charlier & Jean Giraud, 1963)
Mike Blueberry.
The artist Jean Giraud had dabbled in the Western genre in his youth, but it wasn't until the early sixties that his most famous series came to life. In 1961 or 1962 he asked Jean-Michel Charlier to write a new western series for the magazine Pilote. At first, Charlier refused because he didn't like the genre. Then, in 1963, the magazine sent Charlier on a reporting assignment to Edwards Airforce Base in the Mojave Desert, California. He took the opportunity to discover the American West, returning to France with all the ingredients for a great new series. The rest is comic book history.

The comic chronicles the life of Michael Donovan, the son of a rich Southern farmer and slave owner. One day he is framed for murder and goes on the run. Changing his name to Mike Blueberry, he joins the Union Army and fights in the Civil War. After the war he continues to combat evil as a cavalry lieutenant and later as a U.S. Marshal.
The gritty style of
Blueberry
is uncharacteristic for a Franco-Belgian comic, which may have helped to win the Swedish Adamson Award for Best International Comic Series in 1979.
Blueberry
has been translated into many European languages, and you can even get it in Tamil and Indonesian. A
film adaptation
starring Vincent Cassel and Michael Madsen was released in 2004.
4. Cowboy Henk
( Herr Seele & Kamagurka, 1981)
This one-page humour strip has been a staple of the weekly
HUMO
magazine since 1982. The comic centres around the title character, a muscled dimwit with an impossible hairdo. He is immensely strong and incredibly foolhardy. His vast ignorance provides many surprising (and sometimes even funny) punchlines.
Despite the fact that most of his adventures are completely NSFW, Cowboy Henk is one of Flanders' most widely known comic characters. Is it the hair?
A typical Cowboy Henk strip
(totally Safe For Work)
5. Largo Winch
(Philippe Francq and Jean Van Hamme, 1990)
The first
Largo Winch album.
This
comic is based on a series of novels written by Jean Van Hamme between 1977 and 1980. Van Hamme abandoned it to work on comics, but revived his old character when Francq proposed a collaboration.
It's the story of Largo Winch, a young and handsome orphan whose billionaire adoptive father is murdered in cold blood. As the sole heir to the business, Largo is forced to defend his fortune (and his life) against evil people with deadly weapons. It's a story of high finance, tense action and a playboy billionaire who sees a lot of both.
Largo Winch
is one of the most popular French-language comics of all time, with nearly half a million copies sold every year. It has spawned a
TV series
, a
video game
, and a
feature film
.
6. Lucky Luke (Morris, 1946)
Morris (AKA Maurice De Bevere) drew
Lucky Luke
from 1946 until his death in 2001. One of the most notable writers on the series was René Goscinny, co-creator of
Astérix
,
Iznogoud
and
Oumpah-pah
.
The comic portrays the adventures of Lucky Luke, a wandering cowboy who is said to shoot faster than his own shadow. He is usually the man responsible for arresting the infamous but incompetent Dalton brothers. Lucky Luke is often seen astride Jolly Jumper, a smart but cheeky white stallion with a blonde mane and tail.
Lucky Luke is the best-selling European comics series of all time, with over 300 million copies sold and translations in more than thirty languages. Several TV series, films (both animated and live-action) and video games have been made. My favourite will always be the 1983 Hanna-Barbera cartoon. Here's a clip of the intro.
7. XIII (Jean Van Hamme and William Vance, 1984)
The very first XIII album:
Le jour du soleil noir
(The Day of The Black Sun) from 1984.
Revolving around an amnesiac protagonist who seeks to discover his concealed past,
XIII
was largely inspired by Robert Ludlum's book
The Bourne Identity
(1980). It was initially serialised in 1984 in Spirou, and was later published by Dargaud. All the stories feature art by William Vance, with the sole exception of
The Irish Version
(2007), which was drawn by Jean Giraud (AKA Moebius), the creator of Blueberry.
As part of his semi-retirement and plan to shift his focus to writing plays and screenplays, Jean Van Hamme quit working on the series after completing volume 19, titled
The Last Round,
in 2007. William Vance has expressed interest in continuing the series with a new writer. A potential candidate is Yves Sente, who currently writes both
Blake and Mortimer
and my Van Hamme favourite,
Thorgal
(both featured in the
other post
).
In 2003, the storyline of the first five volumes was adapted into a critically acclaimed
video game
. In 2005,
XIII
was the fourth-best-selling French-language comic with over 500,000 copies sold. A TV miniseries adaptation starring Val Kilmer was released in 2008.
8. Yoko Tsuno (Roger Leloup, 1970)
Yoko Tsuno.
Her name was inspired by
Yoko Tani, a French-born
Japanese actress.
Years ago, when Norwegian was still the only language I understood, I picked up an old comic at a flea market. It was a Norwegian translation of
La Fille du vent
(
The Daughter of the Wind
), the 9th installation in Roger Leloup's
Yoko Tsuno
series. I was impressed by the
ligne claire
style, the attention to detail and the balance between realism and traditional comic style.
Yoko Tsuno
is about a young electrical engineer who was raised in Japan but now lives in Belgium. Like Mario the plumber and Tintin the reporter, she is called upon to accomplish things that are a little bit beyond her official job description. This leads to action, adventure, love, friendship, and giant robot dragons. What more can you ask for?
9. Bessy
(Willy Vandersteen and Karel Verschuere, 1952)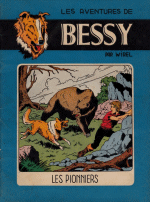 In 1952, Willy Vandersteen (creator of
Spike and Suzy
, possibly the most successful Flemish comic of all time) and Karel Verschuere created a comic inspired by the
Lassie
films. The result was a Wild West setting where Andy Cayoon lives with his dog, a Long-Haired Collie by the name of Bessy.
I haven't read a single word of this comic, but it's got Willy Vandersteen's name on it, and that's a mark of quality in my book.
10. L'Élève Ducobu
(Zidrou & Godi, 1992)
L'Élève Ducobu
("Ducobu the pupil") is written by Zidrou and drawn by Godi. It first appeared in the Belgian comics magazine Tremplin in 1992 and got its own album in 1997.
Ducobu is a comic and eccentric dunce whose only skill is failing in school. He wears a pullover with yellow and black stripes, a reference to the traditional prisoners' uniform. His classroom neighbour is Léonie, a straight-A student whom Ducobu constantly tries to copy from, occasionally getting them both into trouble in the process. Still, she never gives him up or lets him down.
That's all I have on Belgian comics for now. Keep in mind, though, that there are hundreds more out there, and more are appearing every week of the year. Happy hunting!
Images and facts: Wikipedia